Third year apprentices lead the way
Posted by
on
Mark Erlich, NERCC Executive Secretary-Treasurer, spoke to a group of apprentices attending the Third-Year Apprentice Program at the International Training Center (ITC) in Las Vegas.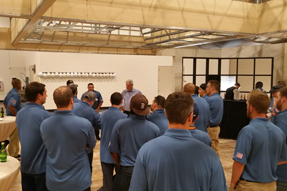 The UBC developed this leadership training program to give third year apprentices a greater understanding of the Brotherhood and the construction industry, and of the role union members play in the success of both. Participants learn how professionalism, productivity, skill, and attitude contribute to their own success as well as that of their employers.
One hundred and eighteen NERCC members have participated in this training program to date.
The following members participated in this skills development program earlier this month: Matthieu Chandler, Local 33; Jeannot Dube, Local 111; Elvis Elezi, Local 24; Chris Evans, Local 107; Jonathan Falcucci, Local 26; Nathan Fontaine, Local 56; Christopher Garabedian, Local 33; Andre Gatlin, Local 94; Daniel Harpool, Local 94; Rashon Holloway, Local 94; Cameron Howell, Local 624; Kelly Johnson, Local 210; Peter Kopchik, Local 210; Dakota Lannan, Local 67; William Lavallee, Local 43; Roman Malkinski, Local 67; Marlon Martinez, Local 40; Jonathan Miller, Local 535; Hermenegildo Modesto, Local 1305; Christopher Nocella, Local 218; Neal-Dra Osgood, Local 40; Nickolas Rasetta, Local 535; Tyeka Robinson, Local 108; Nicholas Schulz, Local 56; Kenneth Schuurman, Local 26; Zachary Sharby, Local 275; Daniel Sharpe, Local 2168; Solomon Smith, Local 108; Shawn Spellman, Local 218; Patrick Varone, Local 33; Samantha Webster, Local 33; W. White, Local 40; Moneisha Williams, Local 40; and Michael Wonoski, Local 33.