Carpenters union to support workers in Cambridge, highlight abuse by contractors requiring legislative action
Posted by
on
Carpenters union to support workers in Cambridge, highlight abuse by contractors requiring legislative action

What: Mass demonstration against Callahan, Inc, a construction contractor with a history of hiring subcontractors who break the law.

Who: The New England Regional Council of Carpenters (NERCC), the Greater Boston Labor Council (GBLC) and Community Labor United (CLU)

When: 4pm, Wednesday, March 18.

Where: 165 Cambridgepark Drive, Cambridge, site where construction of a $45 million 244-unit apartment building is ongoing.
callahantruth.com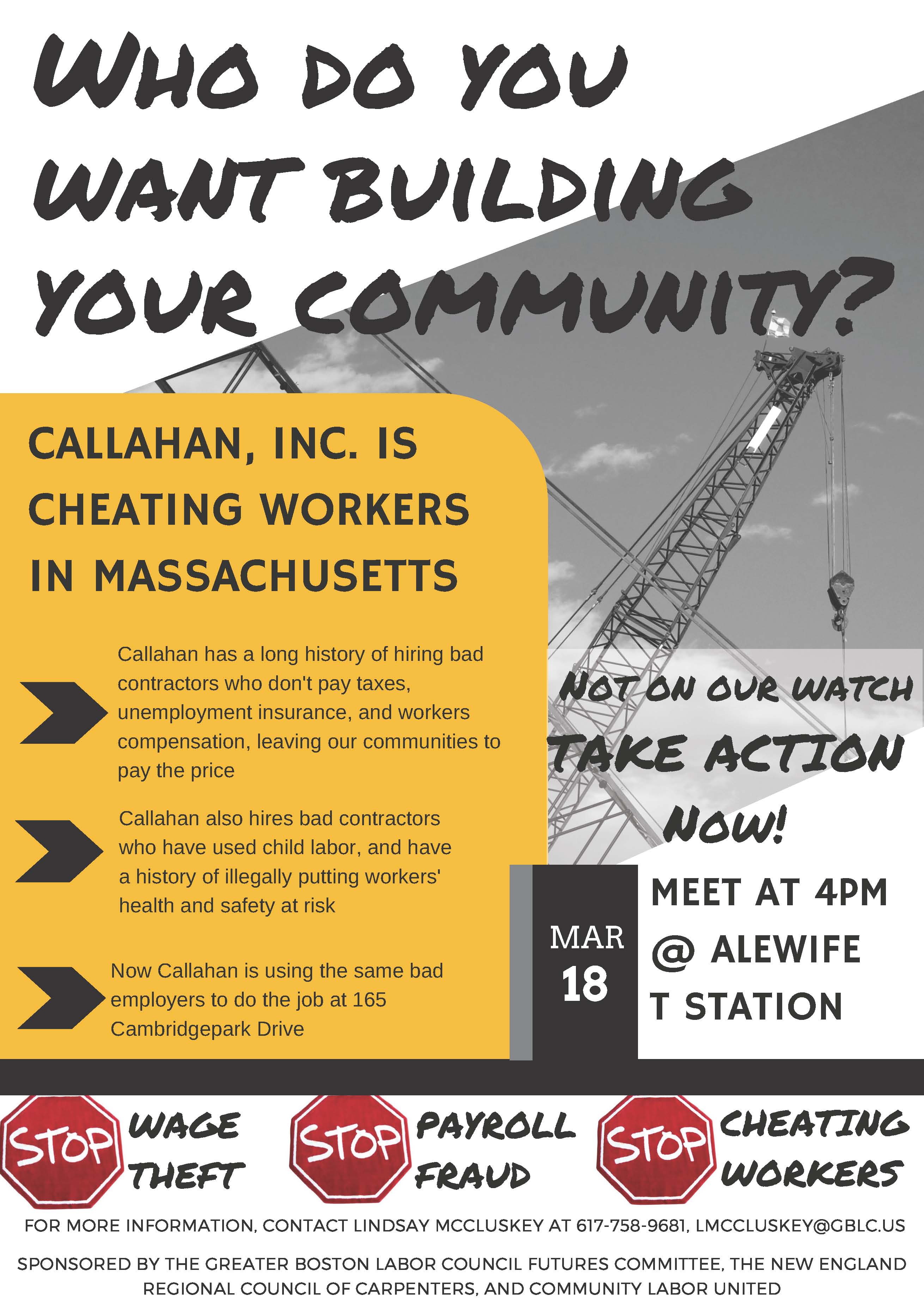 The New England Regional Council of Carpenters will be joined by additional labor and community groups on Wednesday as it protests the use of Callahan, Inc. as the construction manager for a new apartment building being developed in Cambridge. The action will begin at 4 pm on Wednesday with a march to the job at 165 Cambridgepark Drive from the Alweife MBTA station.

"You can tell a lot about Callahan by the company they keep. They've regularly hired subcontractors who have brought with them death, tax fraud and lawsuits," said John Cusack, Business Representative for Carpenters Local 40. "The action of Callahan and its subcontractors cost every single taxpayer in the Commonwealth millions of dollars. Nearly $56 million in lost revenue has been collected in Massachusetts since 2008 because of issues like those that are commonly found on Callahan, Inc. sites. That money and more should have been going to pay for schools, municipalities and safety nets for workers. Callahan, Inc is not the kind of contractor Cambridge wants building housing."

Callahan, Inc. was the subject of lengthy litigation over their controversial qualification to bid a high school project in Hanover, during which the Massachusetts Supreme Judicial Court found that they had "knowingly made false or misleading statements of material fact in the SOQ (Statement of Qualification) with the intention of misleading the prequalification committee."

Callahan's behavior is not just a concern of workers, unions and individual taxpayers. The behavior of the company and their subcontractors undermines the ability of both union and nonunion construction companies who comply with the law to competitively bid projects. Visit callahantruth.com for a documented history.

Repeated abuse in the construction industry has prompted calls for stronger laws and enforcement at the state level. Representative Aaron Michlewitz and Senator Sal DiDomenico have sponsored HD 1833 and SD 673, respectively. "An act to prevent wage theft and promote employer accountability" is supported by NERCC, the GBLC, CLU and many other labor and community groups.